We can add a signature on our ionic project without and with npm package like angular2-signaturepad. In this example, we are creating simple ionic apps allowing a user to write a signature on our application without angular2-signaturepad. We allow a user to write a signature and save in Base64 png and which we can save in our database as a string.
In this example we are learning touch event, touch events interfaces are relatively low-level APIs that can be used to support application-specific multi-touch interactions such as a two-finger gesture. Touch event will work only on devices with touches screen support and this signature will not work on the desktop browser.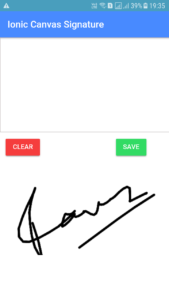 The touchstart event occurs when the user touches an element.

touchmove event occurs when a user moves the finger over an element – works only in touchscreen devices.
Steps 1: Create a new project
ionic start signaturePad blank
Step 2: Add the user interface in home.html,
We have to define a canvas element where we are writing our signature on it.
Step 3: Add css rule 
Step 4: Add Typescript code to draw signature on canvas and save in base64 formats.